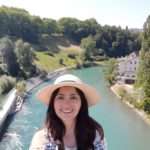 A Caribbean Paradise Taganga was once known as a small fishing village because it was the main economic income of its inhabitants, but it has become a holiday destination for travelers today.
If going to Colombia is in your plans, this paradise is a special place you must visit.
Here is one of the things you can't miss doing if you go to Santa Marta.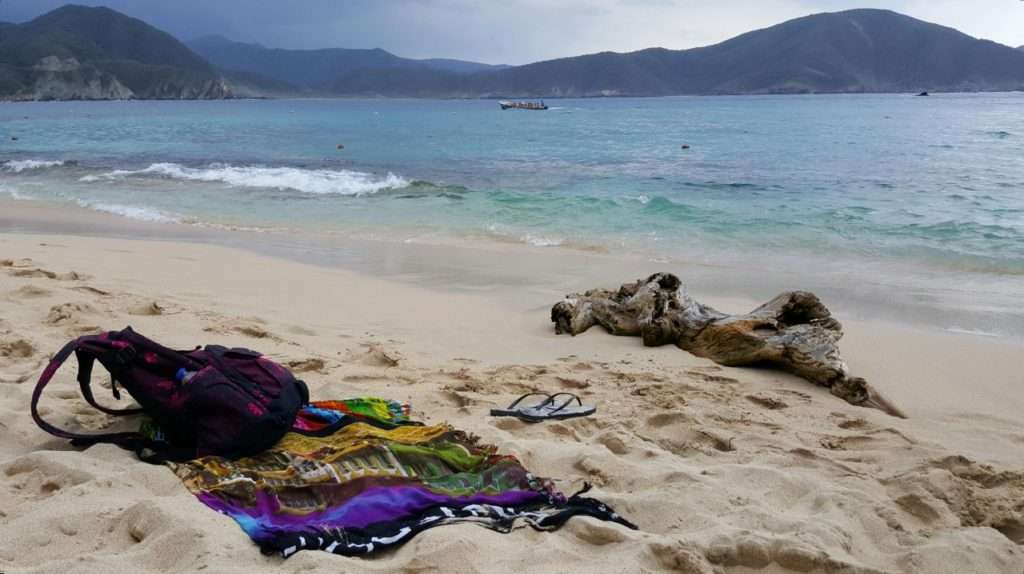 It is a small town in a picturesque bay near Santa Marta and located between Caribbean blue sea and the green mountains that surround the town and keep it hidden.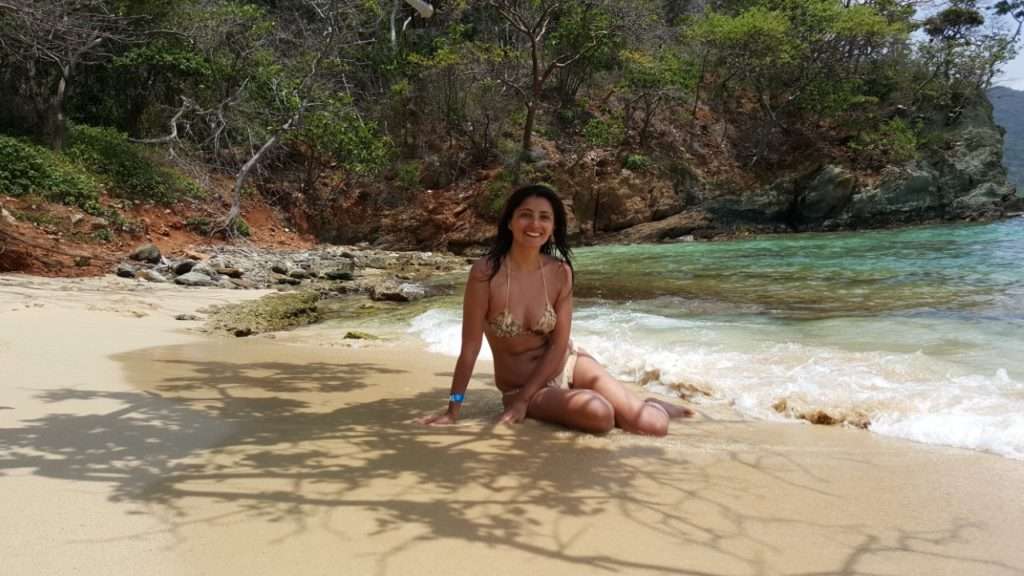 Here it seems time goes slowly and maybe that is its charm, it is a town where there are no signs of industrialization; no big hotel chains or restaurants franchises. Everything is handmade.
Currency
1 $= 3258 COP
How to get to Taganga?
If you choose a flight option, Santa Marta has an airport open only for interior flights. Avianca Airlines has domestic flights to Santa Marta.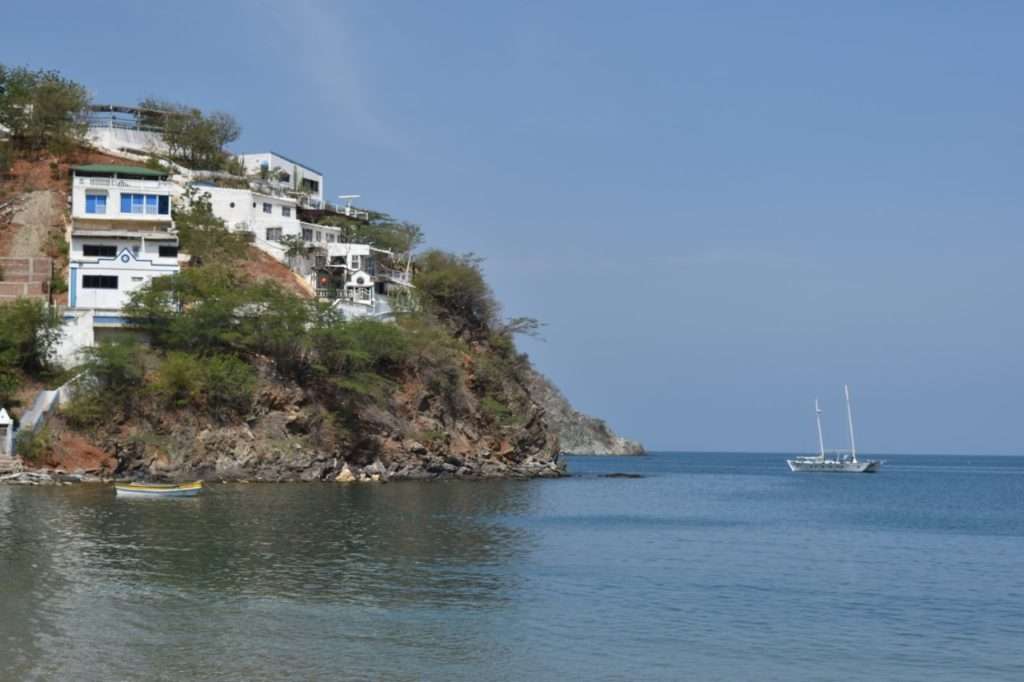 Taganga is 7 km away from the Historical Center of Santa Marta, so it takes 18 minutes to be there. It's really easy to go from Santa Marta to Taganga and there are only two options. The first and easiest option is to take a taxi from Santa Marta to Taganga.
This option is the fastest but it is also the most expensive. The taxi to Taganga is around 12000 COP, which is not a fixed price.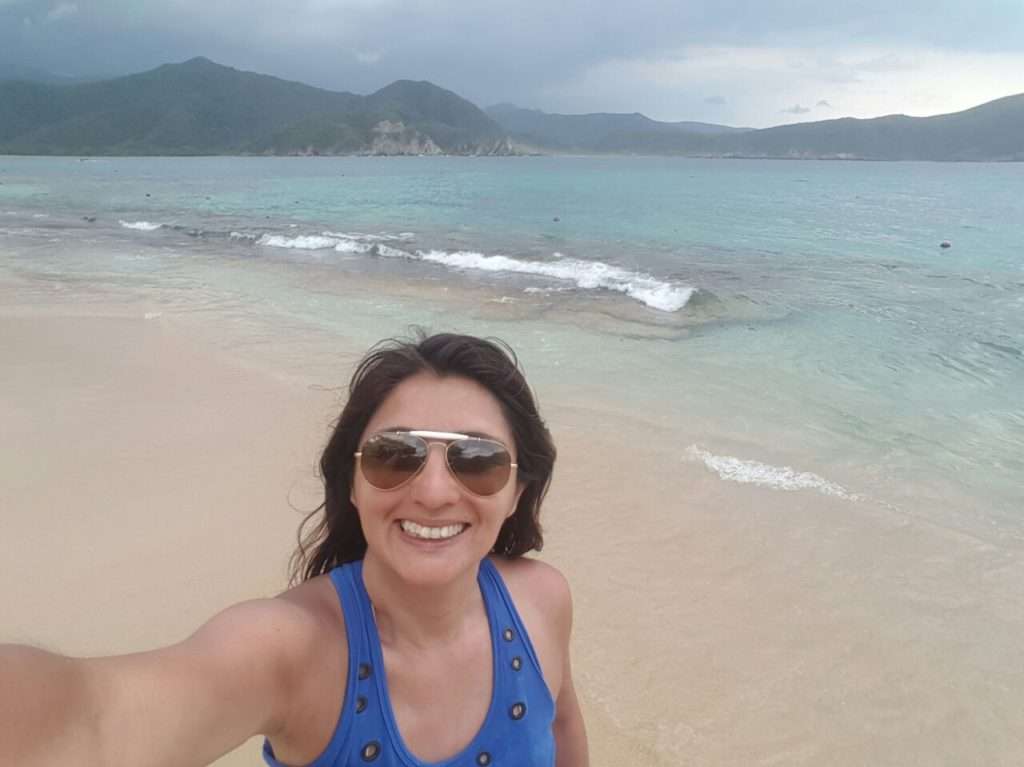 The second option is to take a bus. By now there is one unique route which goes to the town, so there is no way to get confused.
To take the bus to Taganga, you have to go to Carrera Quinta if you are in the Historical Center and wait for one of the blue buses with a sign which says 'Kra 11 Taganga´.
The ticket is 1600 COP from Monday to Saturday and 1700 COP on Sundays and holidays.
What to do in Taganga?
When you are in Taganga you just want to be lying on the sand, enjoying a drink and listening to the breaking waves.
In fact, Taganga is an alternative destination very famous between travellers who want to be in touch with the true culture and also because Town is a very economic destination.
-Snorkelling and Scuba-Diving
Taganga is a coast town and all the activities spin around the sea, because of this the best activities to do here are snorkelling and diving in its beautiful beaches.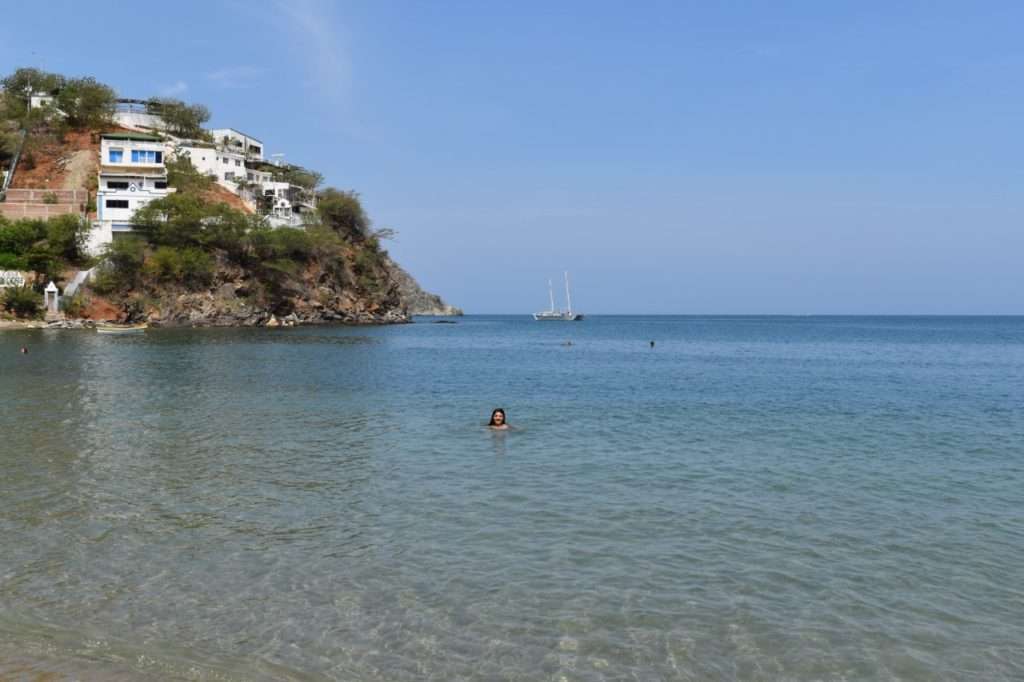 It is so popular scuba-diving center here and you can see a number of dive schools in town. Moreover it is really cheap to get your diving certificate compared to world prices. You can attend a 4 day course only for 350 $.
-Playa Grande
You can also go by boat to cristal beach or go walking to Playa Grande (Big Beach) from Taganga through an ecologic path which goes through the mountain and from where you will have a panoramic view of the entire town.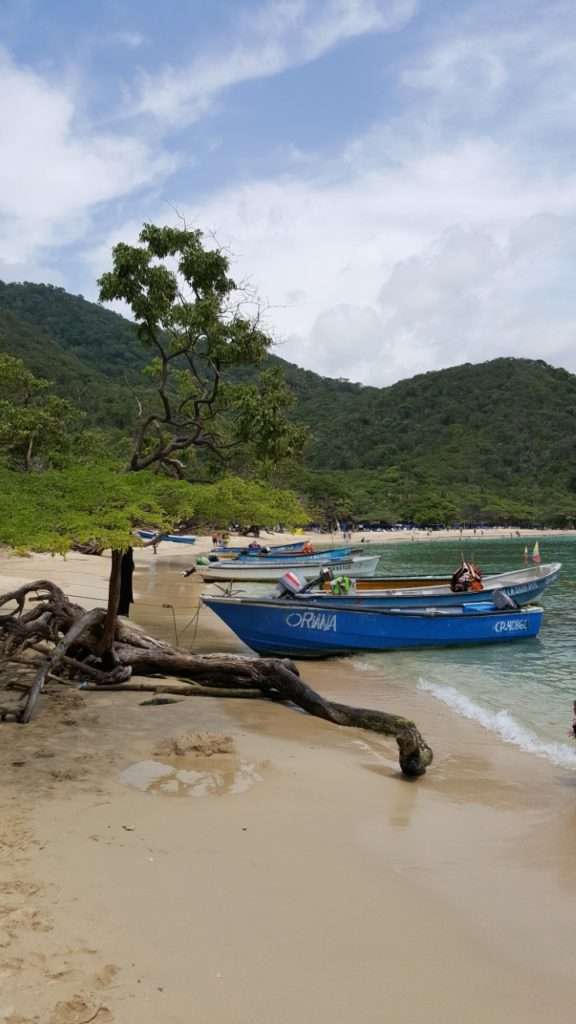 Playa Grande is a nice beach. You can rent a chair in the shade for the day.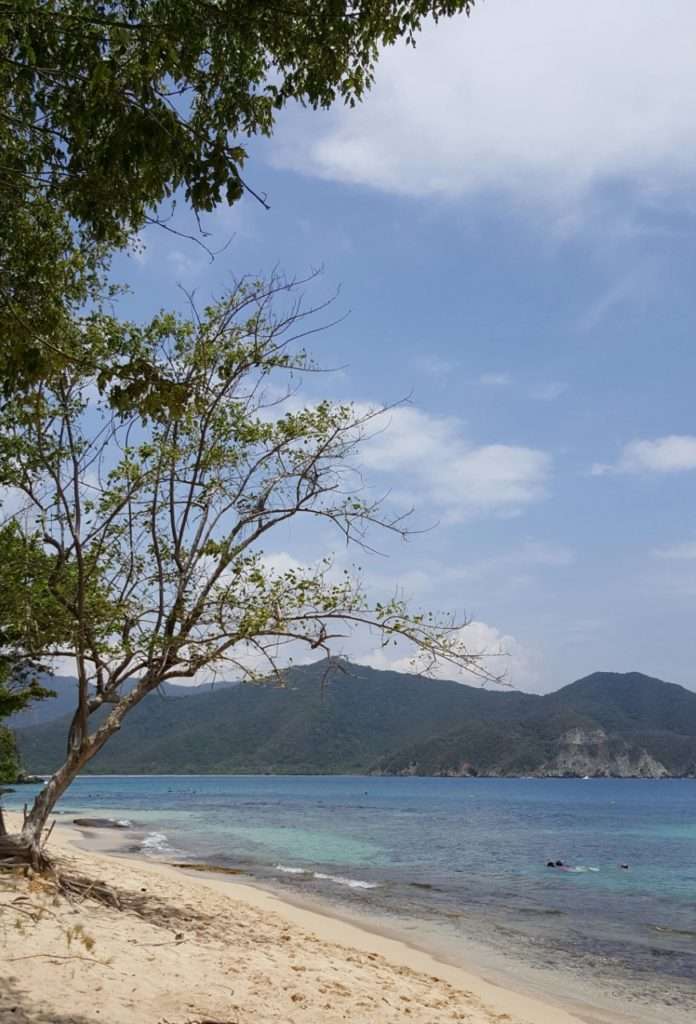 it was a good place to experience the Colombian culture and people watch.
-Parque Nacional Natural Tayrona
I don't think you would like to miss another paradise like Tayrona Park or do you? The beaches in Tayrona National Park are also so beautiful.
There's a daily boat to PNN Tayrona (Cabo San Juan del Guía). It lasts one hour to get there and costs aproximately 30 $ pp. Boat leaves at 11am and get back 4pm. (In high season three times a day).
-Lost City
You can also go in search of the Lost City. Trek was tough in some places but easily achievable in 4 days. One of the best things that you can do in America, I can properly say that it's the best trek in South America. A must do before it gets too crowded as Macchu Picchu.
-Sunset
Another delicious plan is to sit in a bar-restaurant in front of the bay, eating an artisanal dish, listening to good music and around 5:45 p.m. watching the best sunset in Santa Marta.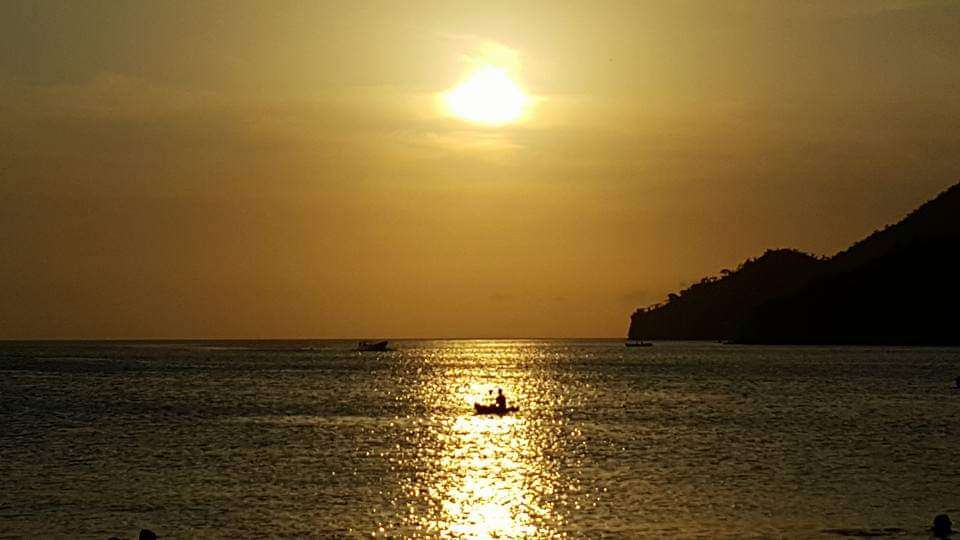 Here, you can see one of the best sunset wievs of Carabians.
-Night Life
If you like night life, town has a budding nightlife.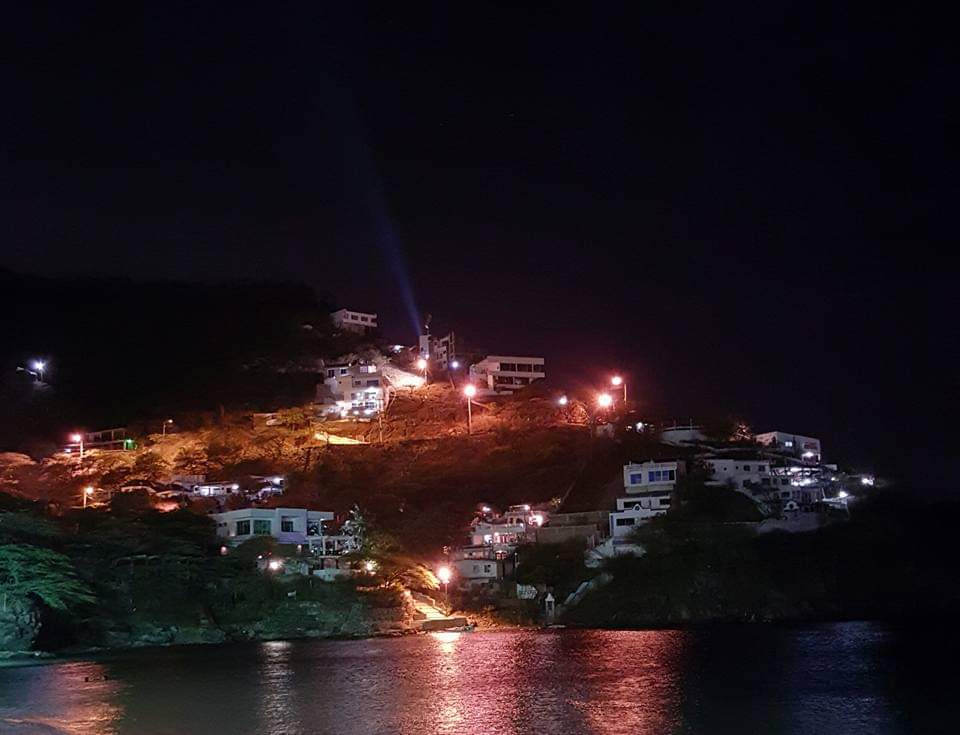 There are some bars where you can dance or simply sit and enjoy the moment drinking a cocktail together with friends.
What and Where to eat in Taganga?
Here is a fishing town and famous for its fresh fish so you can eat fresh fish for lunch or dinner.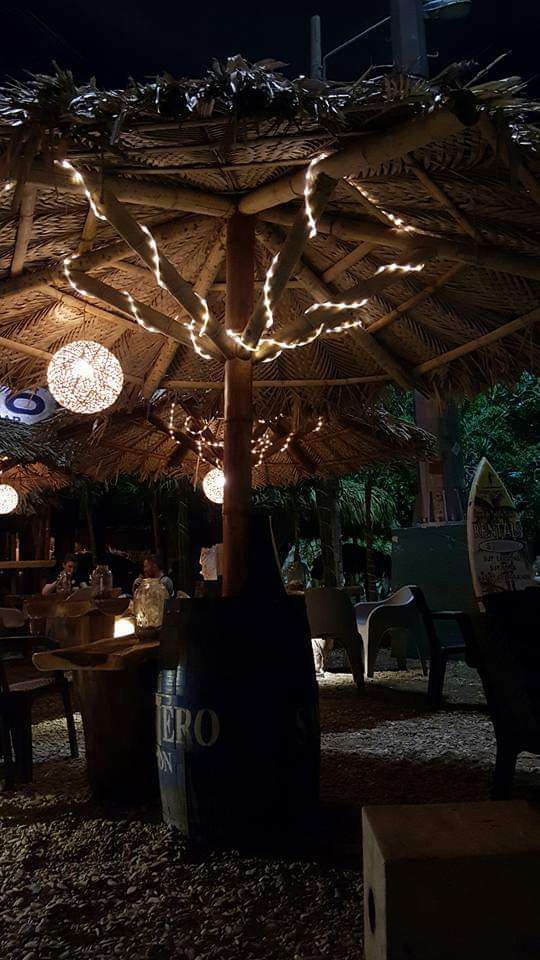 It is enough for a fish menu (soup, fish plate, rice and salad) with a drink max 20,000 COP along the sea side.
Where to stay in Taganga?
Here you have different accommodation options for every budget. Town is a popular destination for backpackers and wealthy people.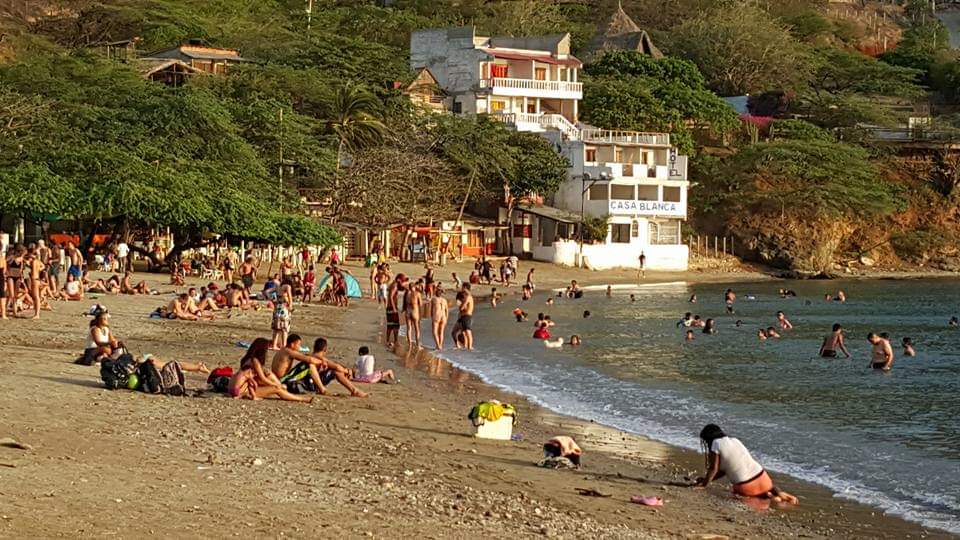 It's like a meeting point for all people visiting Colombia's Caribbean coast. therefore you can stay in both cheap hostels and very good hotels.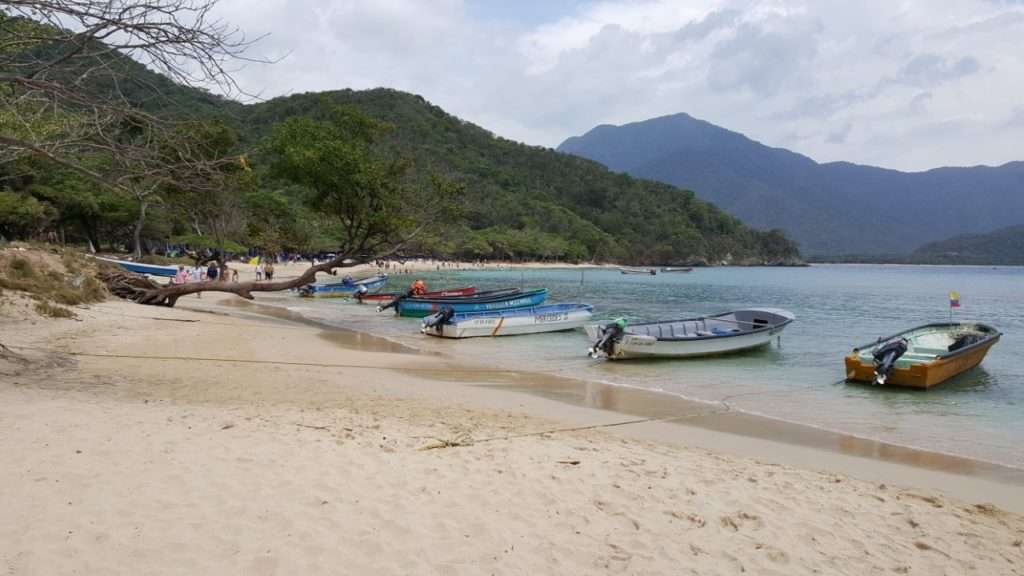 There's no doubt that this town is a small paradise and you will enjoy a lot and I'm sure you will fall in love with Taganga.